San Francisco firm Klopf Architecture undertook this remodeling project and tackled it with some unusual architectural features including two gables, one central private garden, and a cool aesthetic with an alfresco. This courtyard house design is organized around these outdoor entertaining areas, overlooked by glazed interiors that enjoy the sunny views. Vice versa, the views from outside in are equally enlightening – the soaring gabled ceiling, the fresh minimalist interiors, and the wonderfully open layout that makes the most of the courtyard view. Here's the tour.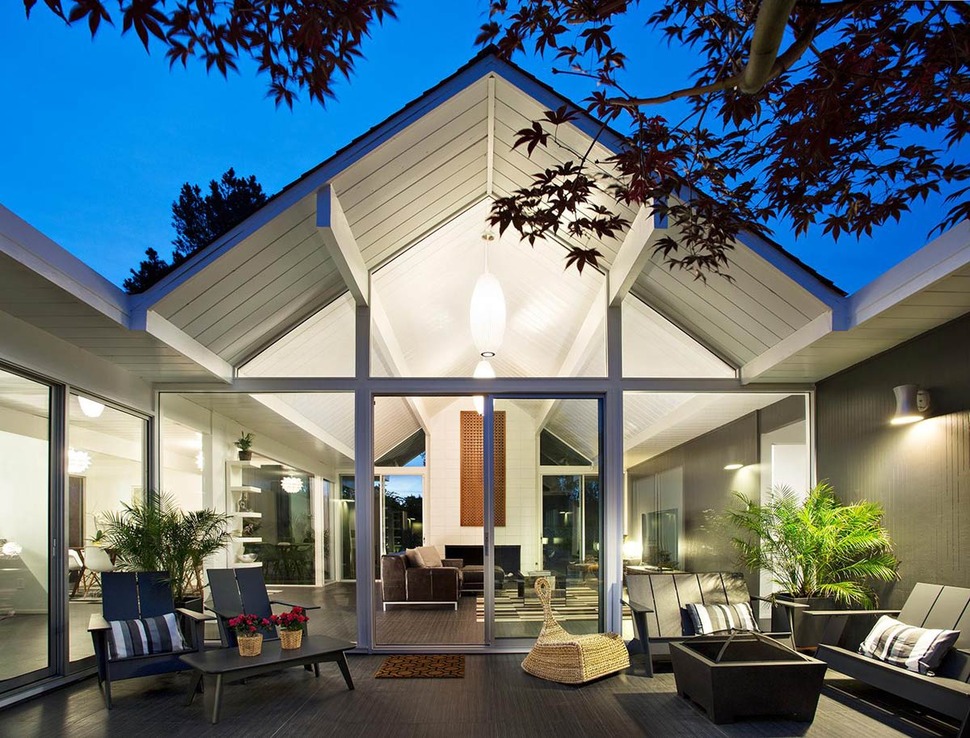 A lone red tree takes center stage, instantly becoming the fiery focal point of this cool alfresco living space.


The courtyard is arguably the best "room" in the house – we love the casual furnishings and the mix of private yet open, enclosed by the home's interior walls yet open to the sky.


From the architects, "The new owners of this home had long dreamed of an Eichler remodel they would live in forever. Their vision was clean, contemporary, and open." They got their wish! Klopf Architecture redesigned and reconfigure the kitchen and family room combo.


To achieve the clients' desire for openness, the architects did a little math – they subtracted walls and added windows, while reconfiguring the bathrooms and laundry areas / closets, and upgrading systems to be more efficient.


The owners decorated and furnished the home themselves, with many vintage mid-century modern furniture pieces and original art.


White fixtures are warmed up with an earthy tile floor in grey, complemented by rustic yet modern animal skins and leather furnishings that entice you to sit back and make yourself at home.


The kitchen is a mix of clean, contemporary and country. Glossy white cabinetry lacks hardware, blending with the crisp white backsplash and the bright white center island and countertops. Stainless steel appliances, modern fixtures and drops of chrome lighting add modern flair.


The kitchen is long and lean (but not small by any means), leading to a large glass door that offers instant outdoor access and ever-present views.


Slightly skewed, completely amazing. Two gables plus one courtyard equals one really cool house design.


Klopf Architecture