Boutique hotels have taken boring traditionally elegant hotel rooms to a whole new level with creative design solutions, one of which is a luxurious freestanding bathtub almost in the center of the room. There isn't a more direct way to make both your bedroom and bathroom stand out. Take a look at our collection of rooms full of hotel bath ideas you'd want in your master bedroom.
Crowning Jewel
A freestanding tub has a visually magnetic presence in the bedroom. It's not that it looks completely out of place, but it's certainly unexpected. Before, bathtubs used to stand right in the center of the room. It seems, this old trend looks pretty natural in a modern setting.
Whether you are building a contemporary villa or remodelling an old church or farmhouse, an oval freestanding tub would instantly add a magnificent design element to your sleeping chamber.
The rest of the amenities may be hidden behind a glass wall or simply divided through difference in flooring materials.
Behind Your Ear
Don't want a tub? There is another way to make your bathroom more open. Simply tuck it behind the bed. This will keep it airy but also more discreet, if necessary.
This is a great way to save space, if you want to add a bathroom to your existing bedroom. All you need is a glass partition and appropriate flooring. The rest is plumbing work and equipment, which you shouldn't be able to see.
It's a great solution for those rooms that don't have a full bath. A sink or two may easily be installed along one of the room's walls.
In the Closet
Some hotel baths look like roomy closets. This is another great way to add a bath, when your bedroom has none. This one requires a bit more space, but there is a decorative advantage to it. You can really play with both door and bath interior design.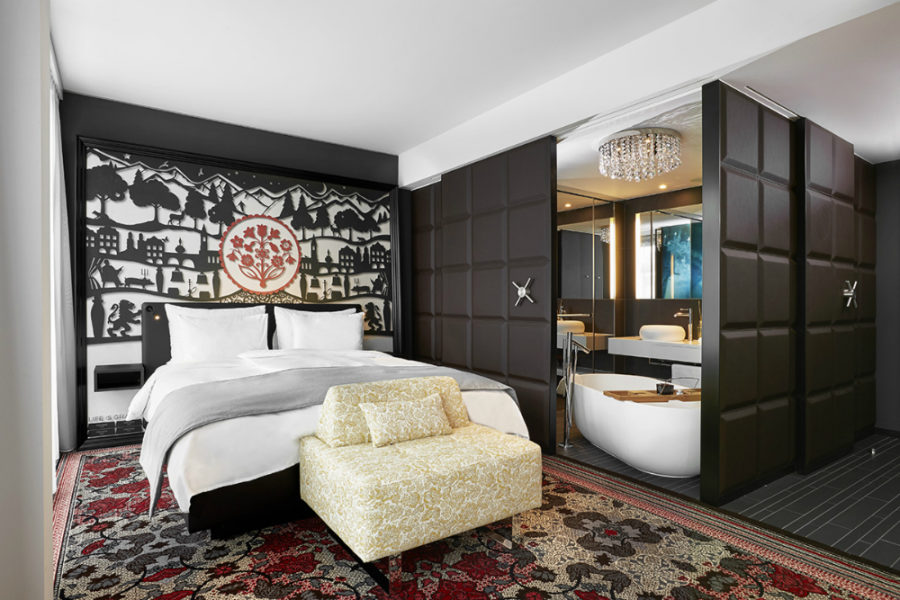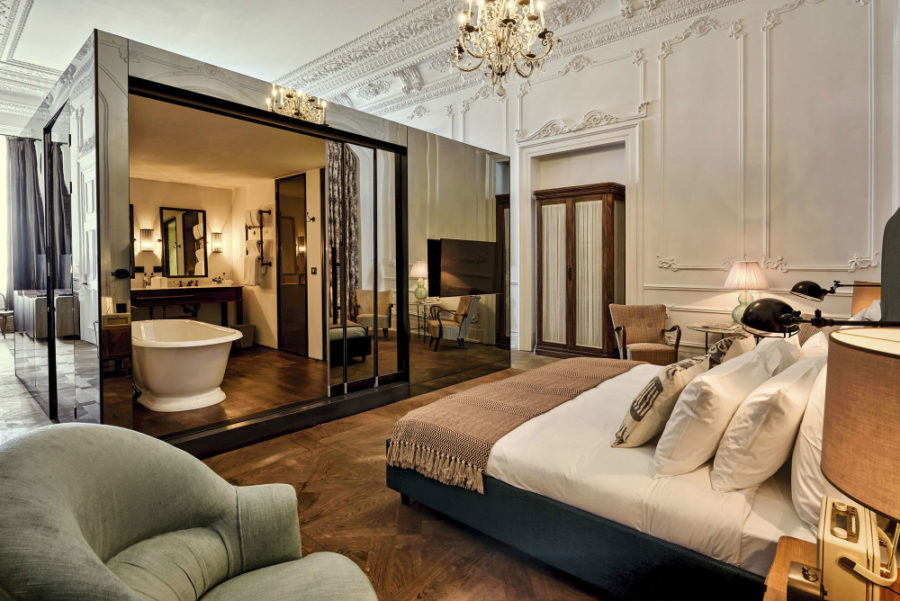 If you can't help surrendering space in your bedroom for a bath, this is a great way to do it. Of course, if your room becomes too small, glass bath doors are in order.
In order to sacrifice as little visual space as possible, consider mirroring your bath closet.
Inside the Glass
Hotel bath ideas almost always involve glass. Glass boxes, partitions, and doors make it easier to keep the room open and spacious. You may nick this trick for your own bath, and enclose your tub in a life-sized fish tank, if you don't like the idea of water vapors spreading all over your beautiful bedroom.
Glass isn't just practical, it can also look beautiful enough. Its greenish or bluish tints make for a gorgeous layer inside an interior.
It will also help natural light travel easier to and from the bathroom, depending on where your windows or skylights are located.
Adjoined Effort
Fully adjoined bedrooms and baths look immensely luxurious. Imagine that your bathroom vanity is the dividing element between your bed and your tub, but each and every zone flows freely into one another.
Big converted spaces are especially appropriate for this kind of layout. You may just need a little bit of walled off space for the toilet.
It's customary to also divide areas with elevated floor space, which you can see in Wiesergut Hotel, Austria.
Half Walls
Half walls became popular thanks to boutique hotels. While they do separate spaces, they also leave plenty of airy between the zones. It is way better than walling off an entire room, creating small boxes in its place.
This layout allows creates a sense of openness in both bath and bedroom. You can easily go and see beyond walls.
There are many ways to use these half walls. Some designers simply equip them with a vanity and sinks, while others prefer to turn them into shower stalls.
Transparent & Clear Hotel Bath Ideas
Glass bathroom maybe too deprived of privacy, but since bedrooms are pretty discreet themselves, why not indulge in a beauty of marble or whatever other materials your bath interior is made of.
If you still don't feel comfortable with a glass bathroom, you may simply supplement it with curtains, which you can shut and retract whenever needed.
You may also choose to have a solid retractable wall or door that would wall off the entire bath.
Sleek & Modern
If you're after modern hotel bath ideas, glass is even more important than all the marble in the world. It's simply the most contemporary material we can think of.
One of its advantages is that it can also be quite opaque. Smoked and tinted glass may help you in creating a sleek bath design without compromising privacy.
Mirrored glass is the best for smaller bedrooms, where you want to have a little more space or you feel it may benefit from light reflection.
Frames, Screens, & More Glass
There is nothing more stylish than a framed shower stall in the bedroom. It looks both modern and vintage at the same time, and it's simply cool.
Both frames and screens have lots of decorative potential, so if you aren't a fan of contemporary sleek, go with these 'cause you won't regret it.
These thick black steel frames have some undeniable charm about them. No wonder they are so popular in modern interior design.
Shower Cubicles
Hotel bath ideas have long evolved beyond simple glass cubicles and shower stalls, but you can't deny that they can look rather cool. A shower stall beside the bed is a very hotel look, but there is nothing bad about it.
There are ways to be creative about it as well. Just take a look at the Puro Hotel's translucent shower stall with a privacy pattern. It looks amazing.
Special Cases
Many hotels take great risks with interior design to attract clientele to their rooms. Thus, hotel bath ideas can be so unexpected and fresh right now. Take note of some of the examples below. Residence in Franeker has a storage wall between the bedroom and bathroom, where there stands a vintage tub to complement stone sinks mounted to the wall's shelves. Brilliant!
Contemporary hotel bath ideas may be expensive to realize, but they are so much fun. If you are building your own home, you may at least want to give them a second of consideration. We're pretty sure, you wouldn't want to go back to the more traditional thing.