Only homes of the NFL football players can rival those of the most extravagant celebs. The sports stars aren't too attached to their luxury properties though. Like many movie and show business moguls they often sell properties without as much as moving their things into them. But at least the property reputation (if not the price) goes up after it was in a celebrity ownership.
These are not simple homes however. They are entire mansions, nay, palaces that may even rival those of the royals. As for locations, they are all over the country map. Tampa Bay, Del Mar, Los Angeles, you name it.
Fabulous Cribs of NFL Football Players
Russell Wilson's Mansion in Meydenbauer Bay, Bellevue, Seattle
This beautiful $6.7 million mansion belongs to Seahawks' Russell Wilson. Overlooking Lake Washington the black and white Mediterranean-style home boasts the area of 10,700 square feet (994 sq m), seven bedrooms and as many baths, five fireplaces, a wine cellar, and a walk-in pantry. Its previous owner was however a star of a different caliber, the Microsoft manager Harish Naidu.
The green front landscape is manicured to accentuate the house architecture. Numerous windows though give the house a more modern look without mentioning the views that they open on the lake and the surrounding greenery.
Warren Sapp's Windermere Mansion, at Lake Butler Sound
Warren Sapp's Windermere mansion was sold at an auction for $2.1 million after the NFL player filed for bankruptcy. The beautiful Tuscan-style mansion was built in 2005 for whopping $7 million.
Besides the 15,000 square feet (1393 sq m) of living space the house is surrounded with beautifully designed landscapes and other estates with the bragging rights.
Troy Aikman's Highland Park Mansion
Former Dallas Cowboy Troy Aikman sold his Highland Park home for $5.4 million. The mansion boasts five bedrooms, five full bathrooms and four half baths, seven living areas, a morning room and a media room. 10,662 square feet (990 sq m) of living space also accommodate four fireplaces, a wine room, a game room and a three-car garage.
There is of course a swimming pool and well-maintained lawns surrounding the stately property. Aikman bought it in 2013 for $4.25 million, which means the house turned out a nice profit.
Tony Romo's Mansion in Dallas, Texas
Tony Romo first bought the land in Glen Abbey, Dallas for $3 million and then built a dream house for another $6 million bringing the property price tag to a whopping $9 million. As many other picture-worthy estates this one stands on the many square feet of green lawns and sprawls wide instead of towering high.
The house or rather a mini castle (just look at those towers) features a swimming pool, three fireplaces, a spa, a study, and an outdoor entertainment area.
Robert Griffin III's Perfect House in Loudoun County, Virginia
Robert Griffin III of the Washington Redskins bought this house in Virginia in 2013. The 9,000-square-foot (836 sq m) estate boasts five bedrooms and six baths, a spa, a mudroom, a wine cellar, and a wet bar.
Nicklaus Signature golf course is a sweet bonus from it being located in Creighton Farms, a 900 acre gated community. And the white exterior with wooden shutters just makes for that perfect family home look.
Rob Gronkowski's Party House in Tampa Bay, Florida
The New England Patriots' Rob Gronkowski has dropped $1.6 million for this 4,781 square-foot (444 sq m) mansion at the Westshore Yacht Club, Tampa Bay. Sitting waterfront the luxurious estate boasts a media room, a game room, an elevator, and, of course, a wet bar.
There is of course a swimming pool and a hot tub in the courtyard. But the football player already moved on by listing the property for $2.4 million.
Philip Rivers' Santaluz House in San Diego
Philip Rivers bought his Santaluz house back in 2009 for $3.299 million. It has six bedrooms and six-and-a-half baths, a library, a wine cellar, and a swimming pool with a spa and a waterfall. The outdoor areas are as outfitted with luxury as the house. A courtyard fountain is surrounded with the private rose gardens, an outdoor fireplace and a built-in barbecue station.
It doesn't seem like the house is set in a desert-like location with all the green lawns, shrubs, and leafy plants surrounding the area providing more privacy to the property.
Peyton Manning's Mansion in Denver
Broncos' Peyton Manning is one of the top earning athletes in the world and his Denver mansion shows it (NFL football players surely do like their mansions). A 16,464 square-foot (1,529 sq m) estate includes seven bedrooms and ten baths. 3.4 acres of land covered with grass, on which the house sits can be observed from a grand balcony dressing up the main building.
The $4.575 million property wouldn't be complete without an elevator, a seven-car garage, a wine cellar, and a patio.
Patrick Peterson's Desert House in Gilbert, Arizona
Patrick Peterson's desert house in Arizona is a $1.9 million estate with a stone facade decor and a waterless front yard. The Cardinals defensive back listed this home for exactly that amount.
A guest house and a tiered swimming pool are complementing the luxurious property. Boasting a sports court and stone-decorated interiors the house is everything an NFL football star needs.
Mike Strahan's Mansion in Los Angeles
NFL football players often have a few pads in their property. This is just one of Michael Strahan's houses. A former NFL star spent $17 million on his white mansion in Los Angeles. Featuring 20-foot ceilings the impressive estate boasts a chef's kitchen, a state-of-the-art home cinema and a home entertainment area that includes a poker table.
The pristine white house is designed with the beautiful French doors and stylish black shutters that echo the front door and make nice contrasting accents.
Matt Forte's Mettawa Mansion in Illinois
Matt Forte listed his fabulous Mettawa mansion for 1.5 million. The French Provincial-style estate was built in 2005 on a 4.9 acre parcel. With five bedrooms and six-and-a-half baths fitted into an open layout the house is completed with four fireplaces and a turret.
There are also a sitting area in a master suite, a stone bar, a home theater, a koi pond and a four-car garage in the luxurious property.
Kurt Warner's Modern House in Arizona
A former quarterback Kurt Warner has bought his modern Arizona house for $4.99 million. A property that is close to 10,000 square feet (929 sq m) wraps around a courtyard with a swimming pool designed in an unusual abstract shape.
The indoor gym as all the other rooms on both of the floors offers the view of the pool and a carefully planned hardscape of the courtyard.
Aaron Rodgers' Estate in Del Mar
NFL football players surely love luxury when it comes to property. Aaron Rodgers's house in Del Mar is an exuberant celebrity crib from the looks of it, with a big swimming pool in the courtyard and carefully manicured trees. But there are sports attractions that make it an athlete's dream house like a basketball court and a football field along with a sports room and a gym, which are listed as two different rooms.
From non-sport-related amenities there are a spa, a beauty salon, a sauna, and also some home entertainment like a pool table, home cinema and a gaming room.
Jay Cutler's Former Rental in Winnetka, Illinois
When it comes to renting living spaces football stars tend to think as big. Chicago Bears quarterback Jay Cutler's rental estate is another stunning mansion on the list. He and wife Kristin Cavallari rented it back in 2013 for cool $10,000 a month. Located in Winnetka, Illinois the house boasts a front formal garden and a small grand balcony with French doors.
There are five bedrooms, nine bathrooms, a big eat-in kitchen, and even an atrium in the house. Even though he didn't commit to purchasing, it would probably end up on the market anyway like most of these luxurious homes.
Frank Gore's Florida Mansion
Frank Gore's Florida mansion was listed for $1.695 million last year. The custom Mediterranean-style (so popular in celebrity estates) house has six bedrooms, an entertainment room and a hidden media room as well as two covered balconies overlooking the crest-shaped swimming pool.
The outdoors are surprisingly tiled with stone only with a few palms growing at the each side of the pool and the rest of the greenery sprawling at the background giving way for the estate to shine.
Elvis Dumervil's Modern House in Castle Rock, Colorado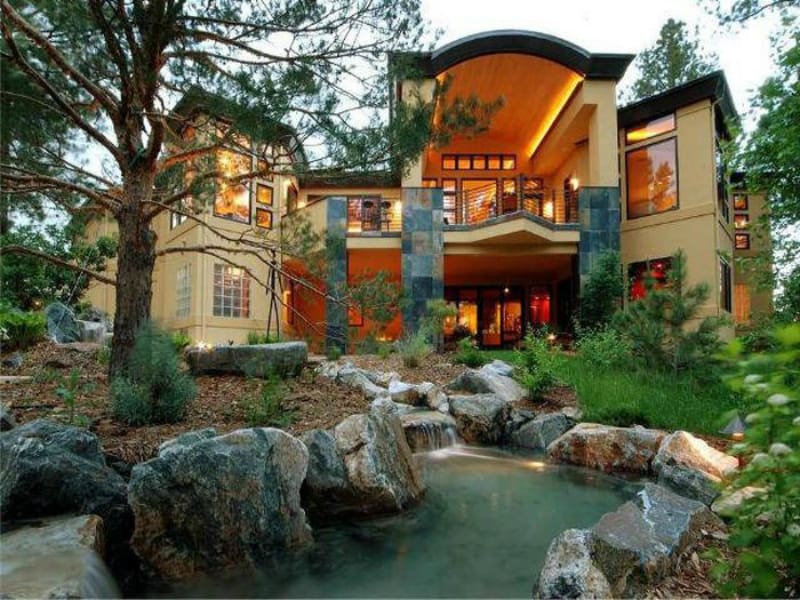 This house was once a home to Elvis Dumervil of the Baltimore Ravens. Built in 2004 the modern house boasts four bedrooms and seven baths fitted into the area of 6,200 square feet (575 sq m). Both the inside and outside of the house are outfitted for celebrity lifestyle.
There is an infinity pool, a 12 person hot tub, a covered patio, fire pits, and an outdoor kitchen. Inside there is a theater room and one of the favorite luxury pad features – built-in fish tanks. These are loved not only by celebs but apparently also by NFL football players.
DeMarcus Ware's Estate in Colleyville, Texas
DeMarcus Ware of Denver Broncos used to live in this Dallas' gated community mansion. 10,000 square feet (929 sq m) house six bedrooms, seven bathrooms, a wine cellar and an array of other amenities and also seven fireplaces.
The outdoors offer a ground-level trampoline and a spacious courtyard with a fountain and colorful bushes. When he moved to Broncos, Ware sold the property for $2.2 million.
Carson Palmer's Mansion in Del Mar
NFL football players' houses while impressive often look like intimidating palaces, but it's not the case with Carson Palmer's house in Del Mar. This ultra-modern crib is modest 8,000 square feet (743 sq m) and features a wood clad exterior with lots of glass inclusions.
The three-story home boasts five hearths, a gym, an infinity pool, a bocce ball court, an outdoor kitchen, and a wet bar. Built out of framed glass its living area opens to the water views with sliding doors while the roof is furnished for a seaside lounging. Completed in 2015 the property is now listed for cool $25 million.
Brandon Marshall's House in Southwest Ranches, Florida
Brandon Marshall's Florida house in a Landmark Ranch Estates community has a look of a hotel and a price tag of slightly over $4,5 million. It's said that the house was designed not only for the football player but by him personally.
There are the usual gym, game room, an HD home theatre. But those aren't surprising anymore. What's surprising is loft leather walls, a bar with a suspended fish tank, a free-form pool and the mosquito misters.
Tom Brady's Brentwood Palace in California
When one of the most famous of NFL football players, Tom Brady moved from California to Massachusetts he and his model wife Gisele Bundchen decided to sell their 22,000-square-foot (2,043 sq m) Brentwood palace with a moat to Dr. Dre no less. Look at that place, it probably won't fit into the lens if you try to take a photo from land.
The estate boasts 5 bedrooms, 9 bathrooms, a lagoon-shaped swimming pool, a spa, a six car garage and even an in-house elevator. Surrounded with greenery (and did we mention a moat?) the house has an awkwardly-shaped driveway with a fountain and a wrap-around green lawn.
NFL football players know how to buy their houses (and some even know how to sell them without losing) but due to their constant moving from city to city or even changing states, living in just one place is not always possible. Usually, buying the houses right after signing a new contract the impulse isn't always upgrading the living conditions but a cold investment. Does it always pay off? No, but that's the real estate market for you. Anyway many of these properties look more like historical pieces of architecture than homes.