We always say that Japanese architecture has a certain, unexpected quality about it, but Mirai Nihon House takes that sentiment to a new level in more ways than one. Designed by advertising company TBWAHAKUHODO (yes, you heard right – we said advertising company), these unlikely creators put together a house plan where nature and technology live in harmony, all the while promoting an "off the grid" lifestyle. By collaborating with some 20 companies who lent their technology and inventions to the project, this 100 per cent eco sustainable house is definitely the "house of the future."

"The massive tsunami and earthquake that hit Japan on March 11, 2011, altered our fundamental view of the world, bringing home to us the realization that infrastructure is fragile and energy is never guaranteed," according to the designers. "Can we live without modern infrastructure? What will the future of Japan be like in this regard?" In answer of these questions, this house operates independently of existing and essential, though not guaranteed, systems such as electricity, gas, water, and telecommunications.


The wood clad house has an earthy appeal both inside and out, and offers wonderful views of its surroundings (wherever they may be, it's portable!) through large windows.
This eco house incorporates elements like Aerohouse, designed by Solor Design Lab – a portable wooden structure that becomes the physical platform for the home. The Nissan Leaf electric car serves as not only a vehicle but also a home power generator. Furthermore, organic photovoltaic film courtesy of Altima Corp. harnesses the sun's power to passively run the home. The HEMS system allows for monitoring and control of energy consumption through a single portable device. The Crystal Valley Water Purification System provides safe, drinkable water for the house.


Aerohouse portable wooden structure, courtesy of Solor Design Lab


Nissan Leaf electric car


Crystal Valley Water Purification System


HEMS portable energy monitoring and control system
These are just a few of many. "All of the partners joined us for the purpose of designing a better future for Japan."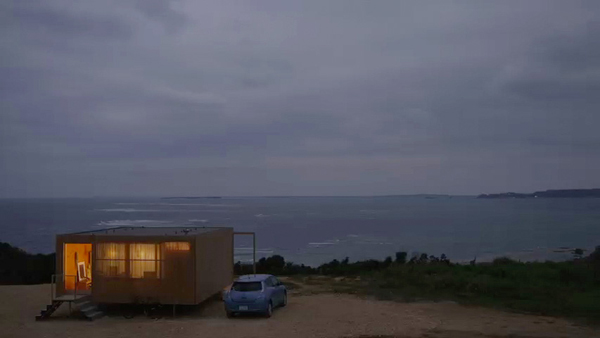 TBWAHAKUHODO