Wood, glass and masonry come together in a trio of layers in this cantilevered French house design designed by Colboc Franzen & Associates. The Paris architects put together this simple yet at the same time "stacked" silhouette that begs to be explored, level through level, inside and out. Located in a Parisian suburb, the slope house plan is carved into the graded landscape, surrounding its glazed walls with visions of green grass and trees – adding an earthy element to this contemporary house. The three physical layers of the home are coupled with three layers of function – practicality for working and doing, social spaces fort living and entertaining, and cozy spaces to escape to at will. Speaking of cozy, the living room boasts a stunning fireplace feature that invites residents and guests to curl up and dream. Check it out!


The precariously balanced upper volume, executed in wood, sits atop a glass and steel main level, which straddles a lower level built into the hillside.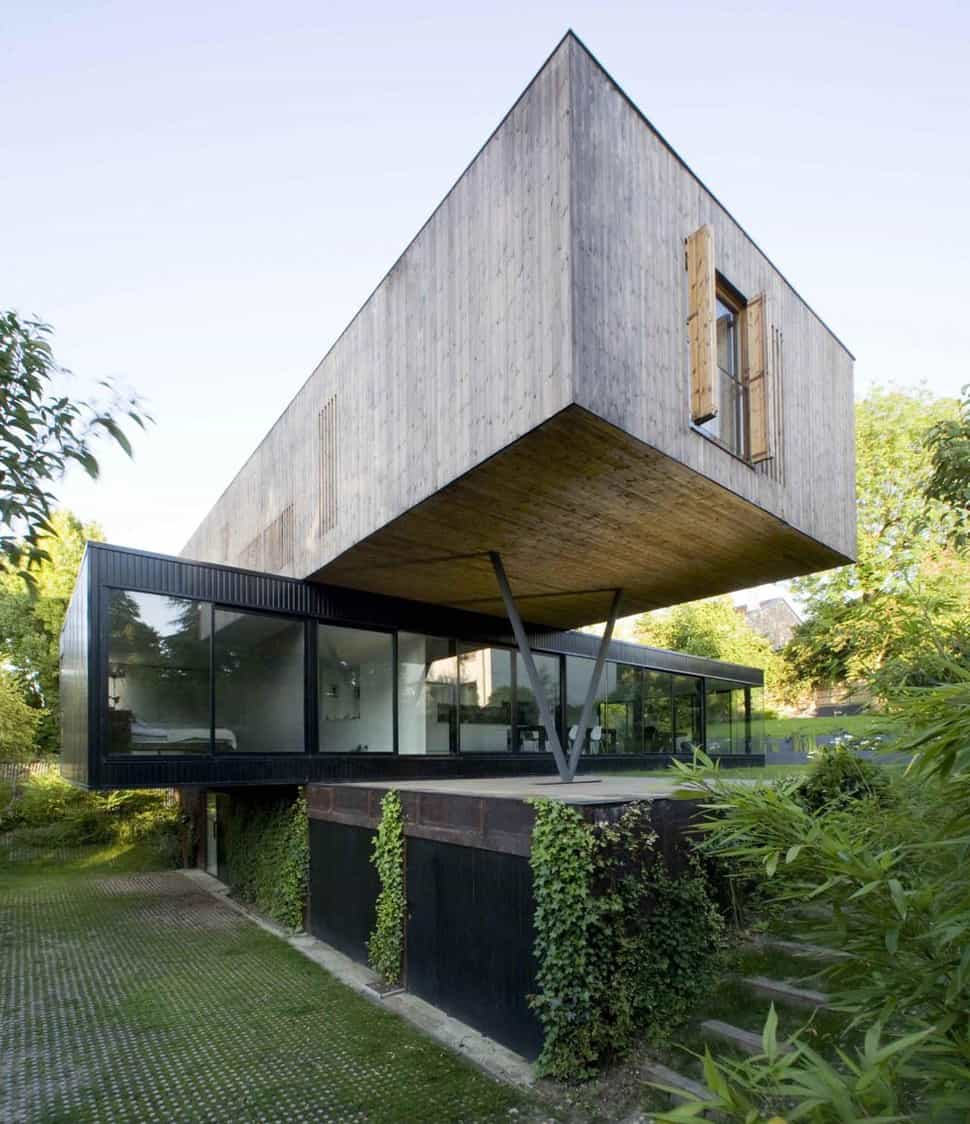 The home's various rectangular volumes are stacked to create an intriguing silhouette, offering architectural interest from the outside and unique views from the inside. The cantilevered volumes are suspended in air, lending these living areas a feeling of floating.


The kitchen is a vision of modern finishes surrounded by garden and grass, visible through glass walls enclosing this social center.


The living area also merges modern and natural, with a clean, minimalist interior design boasting simple furnishings and floor-to-ceiling, wall-to-wall glass blurring the boundary between indoor sand out.


This extra-wide fireplace feature is a conversation piece, to say the least. If you're not discussing its massive scale, you're undoubtedly commenting on its massive open firebox, or contemplating its simple rectangular form taking center stage.


Nature and architecture, in perfect harmony! This music / lounge space enjoys casual living within this modern space. We love the seating, which invites you to flop down and relax while taking in the green scenes through the floor to ceiling glass doors with a walkout to the garden.


Sometimes, it's the simple luxuries that make all the difference. we just love this sunken soaker bath – it all but disappears into the floor, creating a subtle, sumptuous escape to unwind and soak away the cares of the day. The massive sliding glass wall offers outdoor views and access to a private patio space – perfect stealing a moment of serenity, all to yourself… Need a little privacy, the drapes deliver it on demand, without compromising the airy atmosphere of the spa-inspired space.
Floor plans, site plans and sections:


Colboc Franzen & Associates