The Nexus House designed by Johnsen Schmaling Architecture may be small, but this compact family home packs a punch when it comes to the cool factor. By day, the large picture windows serve to flood interiors with natural light while framing thoughtful views of nature and neighborhood. By night, illuminated interiors create a warm, inviting lantern effect that tempts passersby to sneak a peek and catch a glimpse of a truly pampered lifestyle. Here's a tour of this lovely little luxury house.


Located among a scattering of houses in this residential area of Madison, Wisconsin, the skewed site of this wood and brick home offers privacy to its residents while still enjoying a greater sense of community. It makes a one-of-a-kind addition to this collection of unique houses, each different from the next.


"The Nexus House, a compact home for a young family of four, occupies a small site in University Heights, a historic residential district in Madison with iconic homes by Louis Sullivan, Frank Lloyd Wright, Keck & Keck, and many others," according to the architects. Now, that's some stiff competition. But rather than competing with its neighbors, the architects designed a house that stands out on its own, more modern merits.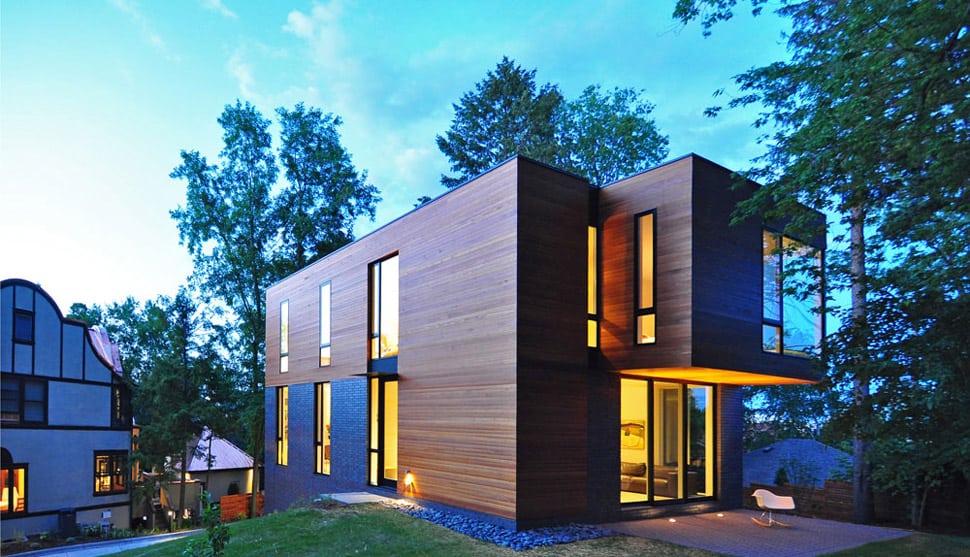 The house consists of two volumes – a two-storey brick main floor partially buried beneath the sloping site, and a cantilevered cedar-clad second floor balancing precariously over the main. Underneath, a south-facing sheltered outdoor entertaining area is small, but sweet, offering an alfresco getaway for a breath of fresh air and a quiet moment to yourself. The home's facade alternates between windows and solid walls, delivering privacy while still maintaining a connection to the outside world.


Interiors are sleek and chic, featuring a minimalist interior palette of white with warm pops throughout, like the wood fireplace and the vibrant yellow kitchen backsplash. Floor-to-ceiling windows illuminate every nook and cranny of this large, open space.


The three-sided fireplace looks onto the kitchen on the other side- cool and contemporary by design, making cooking and cleaning less of a chore! The kitchen's sleek, sophisticated style is a must in this open concept area, in full view from the formal living room at the other end. The white cabinets, walls and ceiling bounce natural light around the space, while the continuous tile floor spills in from the adjoining living room.


With public living areas housed on the main level, the upper floor is designated for private spaces – bedrooms, baths, and a this small reading nook. This quiet, wood-wrapped volume makes a stylish getaway for quiet contemplation or flipping through the pages of the latest juicy read. It's a great little getaway, but the openings at either end ensure lots of light and a link to the rest of the space.


Each floor-to-ceiling window frames a different view of green gardens and lush, leafy trees. You feel like you're a million miles away from it all without ever leaving the city.


From the architects, "Successfully contesting the local preservation ordinance whose strict guidelines advocates stylistic mimicry while failing to recognize the neighborhood's rich architectural diversity, we designed a quiet but unapologetically contemporary building, its formally restrained volume discreetly placed in the back of the trapezoidal site, where it avoids direct visual competition with its two dignified neighbors, a hundred-year old Spanish Colonial home and the Ely House from 1896, a cherished landmark on the National Register of Historic Places."
Here are some diagrams of how the Nexus House comes together:


Johnsen Schmaling Architecture