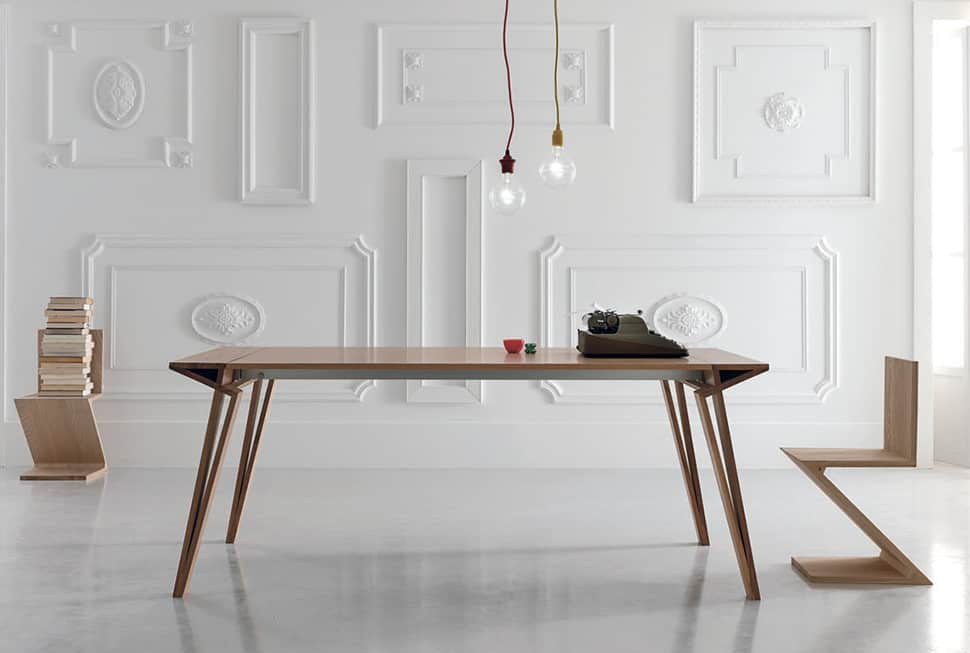 We've always liked Alivar's modern contemporary furniture but now they've come up with the new collection aptly named Brilliant. And it is a brilliant — and cool looking — line, the latest and most elegant interpretation of the true contemporary style. Mixing and matching pieces from within the collection – the effects are simply stunning. When you have one piece with such style and presence, you have a showpiece but when you mix and match — your own sense of style and taste emerges. And you can rest assured that at Alviar, all woods are used in an environmentally sustainable manner. All leather is hand worked, all stitching is tailored – you will not find better quality workmanship anywhere. Witness the Oblique table (above). Doesn't it have the most incredible geometric details? The lines are all hard, but not harsh. And it's an extending table! Use it open and longer (as above) or closed, for smaller spaces (opening it only when you need the table space). Brilliant.

The Lagoon sofa and armchair set (above and below) from the Brilliant Collection is the perfect marriage between leather and fabric. The angular lines are carried through both the sofa and the chairs. Don't these pieces look deep and comfortable? And they are unmistakably modern yet subtle enough to use in any style room.


The Onda ottoman with removable arm rest is an ingenious modular piece. One minute, it's an ottoman, the next, it's a bench with an arm rest. The piece is available in leather or fabric, in bright or neutral shades. The base is painted or chrome-plated steel and a multitude of combination choices mean you can style this piece to fit an existing room.


Home, home on the range. These Fortuna chairs look so soft and comfortable – like you could sink right down into their bucket shape and disappear. The chair delivers an "enveloping hug" to keep you feeling cozy. And this spectacular design comes in a variety of different covers – from the hide choice above to an muted tone upholstered chair suitable for the most staid of offices (in leather or fabric).


The Lagoon bed follows the same design style as its siblings (sofa and armchair above) from the Lagoon line.


With a matte lacquered wooden frame and padded headboard and footing, this SAIL bed is pure elegance in pure white. Covered in fabric or leather – this bed screams summer in the Hamptons, doesn't it?


The Cuddle bed is pure design brilliance – see how the pillows (which are part of the headboard) are attached? Mixing leather and fabric gives this bed an organic feel and just look at that fine hand stitching on the leather. It would be pure heaven to flop down on this fine piece of furniture after a long day!


The Diapason bookcase is a fluid design – flowing and curved, with lots of space. It's perfect to use as a room divider with its open shelving – and it's available in dark or light coloring. A diverse shelving option for all rooms, the frame is made from chrome-plated steel.


The Petit Papier desk is a perfect match for the Lollipop plastic chair in translucent lime green. The desk is available in two sizes – the petit is particularly good for small spaces. And the Lollipop chair is available in a vast array of bright popping colors – just take your pick!


Here's the Diapason bookcase in white. Which do you prefer?


The Kanji table – or desk – has a heavy duty rectangular cut glass top and painted steel base. In the finest of Danish contemporary style, this desk plays with light and shadows.


The glossy Surface bookcase draws on the retro look of the 60s and gives a nod to the pop design of that era.


This Plaid sideboard is lovely in two tone dove and coffee browns with lots of storage space.


The Gem sideboard has a curved geometric design and plenty of shelves plus two drawers in the middle.


The Ibis is a stunning bookcase that hangs from cables – it looks more like art than furniture!


The Foil table balances a rectangular glass top on an elegant varnished oak base.


The Big table is a minimalist design with white or black glossy top and chrome base. It would make a great holiday dining table!


Aren't these translucent Lollipop chairs fantastic? Great style, and they'll go with any color room!


A wide array of bright colors are available in the Lollipop chair and they stack!


The Buddy Boss line of sofas and chairs is available with or without the gull-wing style arm rests but we like them. These pieces are available in assorted leather colors or fabrics with a steel base (painted or chrome plated). As with all the Alivar furniture, this collection is a testament to their design and workmanship and a pleasure to own.


The Metropolis mirror (above) and AB Normal wall clock (below) are an opportunity to own the same quality Alivar is famous for — only in accessories.


More information: Alivar