Rambla House is a weekend home located in Zapallar, Valparaiso Region, along the central coast of Chile about 175km from Santiago. The site is exposed to strong south winds and intense sun from the west and LAND Arquitectos designed Rambla House to be protected from the winds and sun while at the same time focusing on the panoramic ocean views and an indoor-outdoor lifestyle.

The home is built over concrete beams that provide ventilation for the structure to prevent the coastal humidity to transfer into the interior zones.


Pine wood volumes are built over top of the concrete beams and the Pine has all been treated with a white protective coating that also helps deflect heat from the intense summer sun.


A concrete block wall protects the structure from the steep slope behind.


The concrete blocks have large central voids that allow light to pass through, creating a geometric shadow play in the process.


The wall is tied into the home at the roof level.


Steel V formation posts are used throughout Rambla House as the main structural detail.


The terrace stretches out towards the ocean and features a deck level pool as well as bench seating on its perimeter.


There is also an onsite trampoline next to the house as well as an ocean front public promenade below the house that leads to the city center.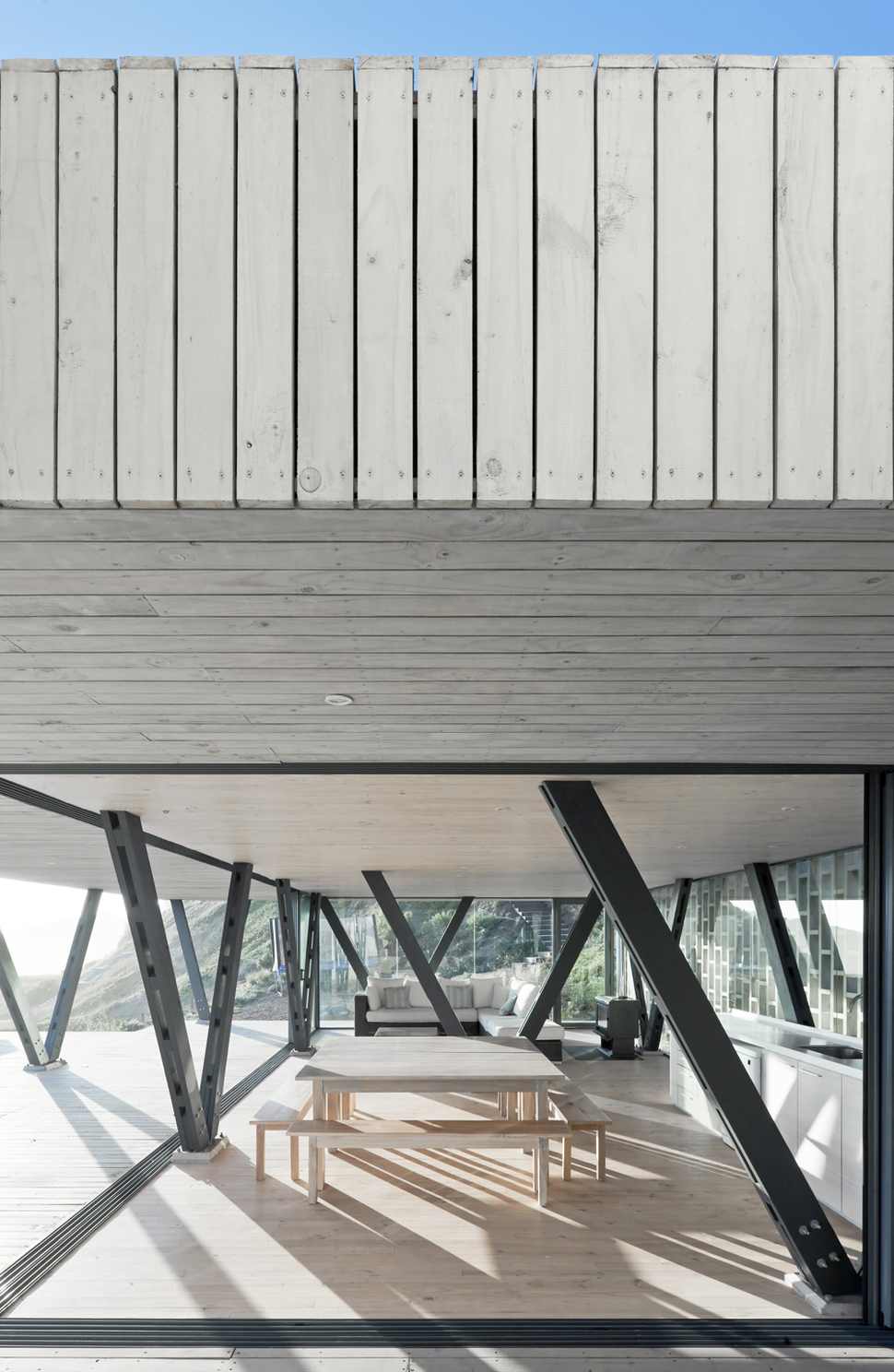 The social zone of Rambla House is within its own glass wrapped volume.


The repeating element of the V supports creates a dynamic element within the neutral interior that is only rivaled by the ocean beyond.


The living room furnishings have an outdoor aesthetic perfectly in tune with the amazing views through the walls of glazings.


the dining room also plays up the outdoor experience with its bench seating – and when the glazings are slid and stacked out of the way, it really is as though the social zone is outside.


The V supports on both the inside and the outside adds to the blurring of the two zones.


While there is a small kitchen behind the dining room, the piece de resistance is the large outdoor BBQ area next to the social zone; it features its own ceiling void for easy venting of cooking smoke while flooding the space with natural light at the same time.


When the glazings are slid and stacked, the BBQ area is just a few uninterrupted feet away from the dining room.


On the other side of the BBQ area is a 2nd volume that houses both the bedroom and the bathroom.


LAND Arquitectos
Photography by Sergio Pirrone