From the front, this residence located in Connecticut and designed by Specht Harpman Architects, looks like a regular U-shaped pavilion with a courtyard. The surprise comes when looking at the house from the opposite direction, from the woods behind. That is when the pavilion reveals its true extent, with its surprise excavated lower floor and the outdoors universe. The main entrance is at the upper level, through the garden and via a pivoting glass door. Glass is a defining material for the main level of the pavilion, as this part of the house is partially see-through. The base of the U shape which is also the social area of the house is enclosed between two glass facades, so a visitor can see the woods behind already from the front garden. The two lateral sides of the U are dedicated to the private activities. The left side is occupied by the master suite, with bedroom, bathroom and sitting room. The right side consists of two guest bedrooms with en suite bathrooms, and a gym/yoga studio. The lower floor has a garage and storage in the sides of the U, while in the front part there is a big leisure and media room, a laundry and a study.

The way to the main entrance is guided by a concrete tile path through the front garden. The garden is kept simple and tidy, with a lawn and some clusters of low round bushes.


The master bedroom has direct access to the garden through big sliding glass doors.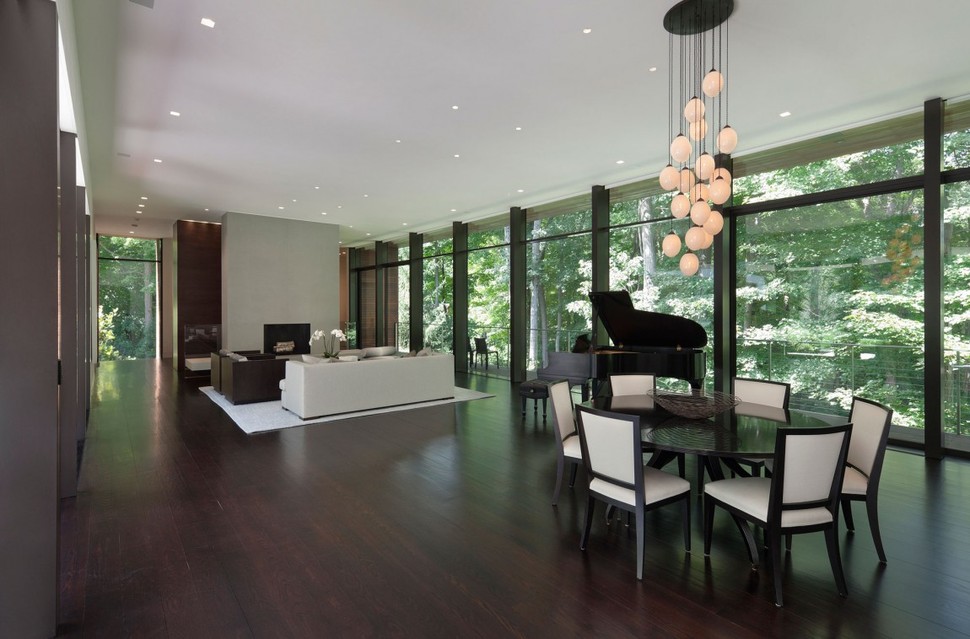 The social area of the house is very luminous thanks to its position between two fully glazed facades. The design is contemporary and elegant, and quite minimalistic. There is a sharp contrast between the white ceiling and the dark wood floors.


The main sitting area faces the fireplace, integrated in a wall that also serves as partition for the more private sitting room of the master suite.


The all white glossy kitchen is very discreet. The hick beige stone counter tops create a very delicate contrast.


The bedrooms are elegant but cozy, carpeted or exposed wood floors and a lot of natural light penetrating through the big windows.


The bathrooms, behind mirrored pivoting doors, are minimalistic chic.


The more casual social area of the house is at the lower level, with comfy sofas and a well stocked bar in one corner.


The other surprise of this pavilion is the outdoors world, with its various sites: the pool, the deck, the pool house with its own kitchen and bar and the sitting area.