Paola Navone is fascinated with all types of forms and likes to incorporate them in his furniture designs. From organic stump shapes to tufting, he delves into it all. This Pouf, for example takes on the form of a tree section – because it is a tree section. In fact it is a trunk section of the Wrightia that is then peeled and hand carved. This natural formation conjures up the feeling of a quiet repose on a log stump in the middle of the forest. The organic form would be a fun addition to any living space.

The Brick 41, 42, and 43 collection takes its form from the wood it is created from. Four pieces of milled wood create the four sides of each of these shelves and the final effect is one of a shadow box framing a special memento as a work of art.


The Brick 33 takes its form from two Wrightia tree sections supporting a canopy that in this case is a waxed iron sheet tabletop. The piece is a contemporary and whimsical approach to the dining experience and offers a great way to visually spice up any meal.


Brick 32 is comprised of one peeled and carved Wrightia trunk section for a singular tree formation that, at 40″sq. can seat up to four people. Whether used for a small dining area or as part of a large games room, the Brick 32 will be a fun and fanciful addition to any space.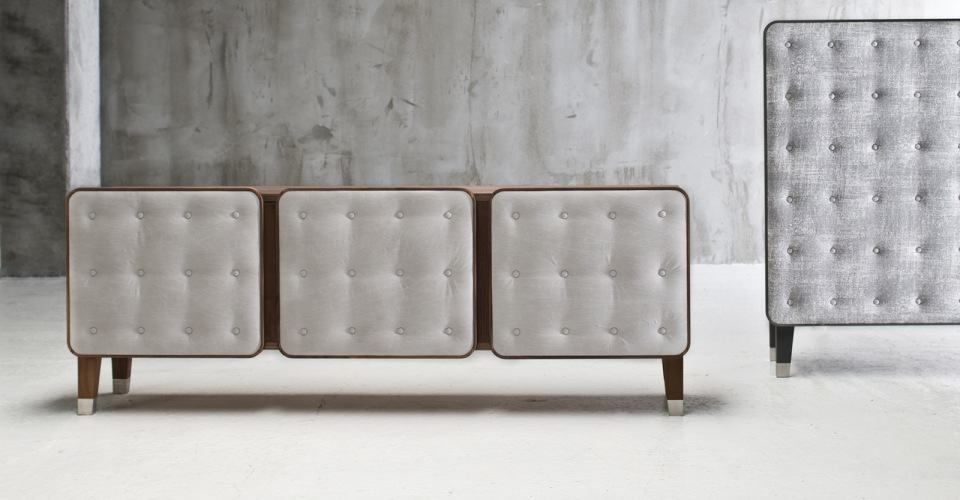 The Brick 68 is a walnut cabinet that takes its form from traditionally quilted upholstery, but instead of using the quilting on a seat, the quilting is applied to upholstered doors. The visceral effect is that you want to reach out and touch the soft doors, which just happen to hide two adjustable shelves. To add to the appeal of this piece, Paola Navone has added brushed steel terminal caps to the bottom of the legs.


Brick 67 uses the same walnut and upholstered door design as the Brick 68 but with the door operating on a side-to-side sliding mechanism that showcases one fixed and one adjustable shelf. The formation of this cabinet is one of "now you see me, now you don't" with its clever use of a singular sliding door. The capped legs add just a little glam to a soft and cushy quilted cabinet.


Brick 69 is a 4-door version of Brick 68. All of the Brick tufted cabinets come in a natural, matte white, grey, or aviation black finish on the walnut framework and all are a great way to add a layer of texture to your home, especially if your home is comprised of a lot of hard surfaces.


Brick 20 LR is a polyurethane foam padded day bed with removable cover. It has the choice of a left or right armrest and comes with a Dacron and down back cushion for that oh so comfortable feeling – like a giant hug. The form of this day bed is one of unpretentious luxury that says "just try and stay awake on me", which of course might be hard to do as you sink into the down filled back pillow.


80 and Brick is an upholstered bed and frame that comes disassembled. The loose covering of the upholstery offers a form that is both casual and relaxed, making it a great foil for any modern furnishings. This bed says it is a look AND touch piece with a no muss no fuss appeal.
Paola Navone for Gervasoni