The big bathroom mirror trend will delight and excite those who love to work on their outfit and look a lot, but it has so much more to offer in terms of design and decor. And while a big mirror may not be easy to maintain, it definitely justifies the hassle of keeping it spotless. Just follow our list of examples to see how an oversized mirror can transform any boring contemporary bath.
Big Bathroom Mirror Trend
Starting big, take a look at these stylish frameless mirrors that come in giant squares or rectangles. They make the best impression, and give a bath that hotel look and feel.
While built-in ceiling lights are the best for these kinds of mirrors, you can also look into slender clustered pendants that can really add to your overall bath aesthetic.
Backlighting works with any mirror size and shape, so if you really need some additional glow to your vanity, it's a great choice of lighting.
Wall Wide
Wall-wide mirrors work really well with long double vanities. They also look great in a slim vertical shape, providing lots of reflective surface across the wall.
These don't have to take up the entire wall. You can create a break or a backsplash between the mirror and sink, to make the cleaning process easier.
You may also choose to make a full wall up to the vanity fully reflective to really achieve the contemporary hotel look.
Mirror Wall Niche
It may not seem that way, but a wall niche is a great place for the big mirror. It serves as a frame alternative if you will. And it also better accommodates both vanity and any additional storage.
We especially love the first example here, because it promotes neat order and organization in the bathroom.
A more storage-heavy room benefits greatly from lots of mirrored surfaces, visually enhancing the interior filled with cabinets.
Grand Minimalism
Minimal bath interiors can really benefit from the big bathroom mirror trend. A minimal room without a big mirror will look a bit too sterile, while an impressive looking-glass can add that special feature to it without cluttering the room with detail.
A huge frameless reflection that occupies the wall from ceiling to floor has something special about it.
But even a simple frame cannot ruin the minimalist aesthetic, so don't be afraid to experiment, if you don't have the budget for a full wall mirror.
Mirror Reflections
We are so used to the mirror+vanity combination, we rarely question it. But the question of location still stands. While most would prefer to keep things in their place, others want to amplify the window views.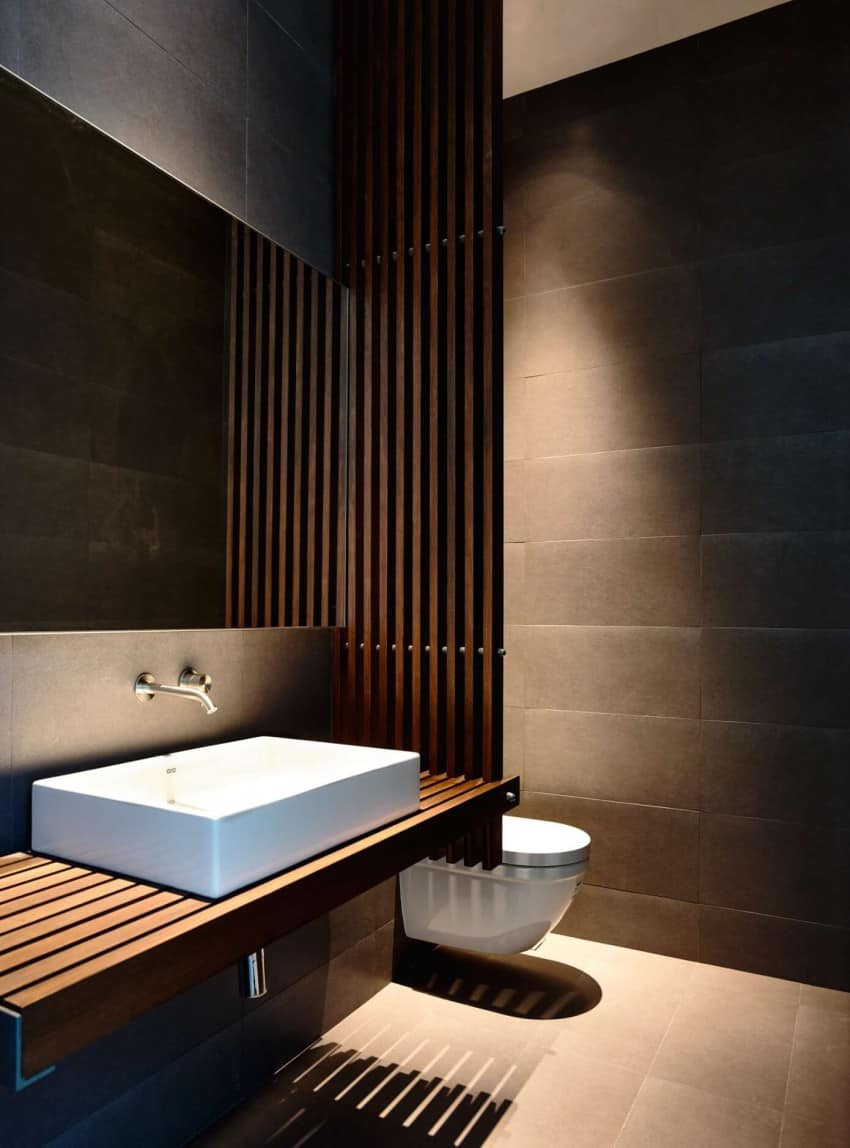 You can go a different route and enhance your mirror's reflections with decorative wall coverings, interior elements, and even paintings.
If your mirror is purely there for function and vanity, it makes sense to keep it where it will help you take the most advantage of its properties.
Framed
Big mirrors don't just look nice frameless. Even simple frames can bring a lot into the decor. It is a matter of what look you're after. If you are seeking to add more detail and visual presence to your bath, then a frame is a great way to do it.
If you want your bath to look completely sleek and hotel-like a frameless version would be a better choice, aesthetic-wise.
If you want to dramatize the interior, you can opt for an oversized framed mirror. It may put a dent in your budget, but it will give your bathroom a lot of pizzazz.
Grand Mirrors
Since we mentioned dramatizing, grand mirrors look incredible in modern baths. They simply work well with marble and other natural stones, crystals, and metallics, amplifying their beauty.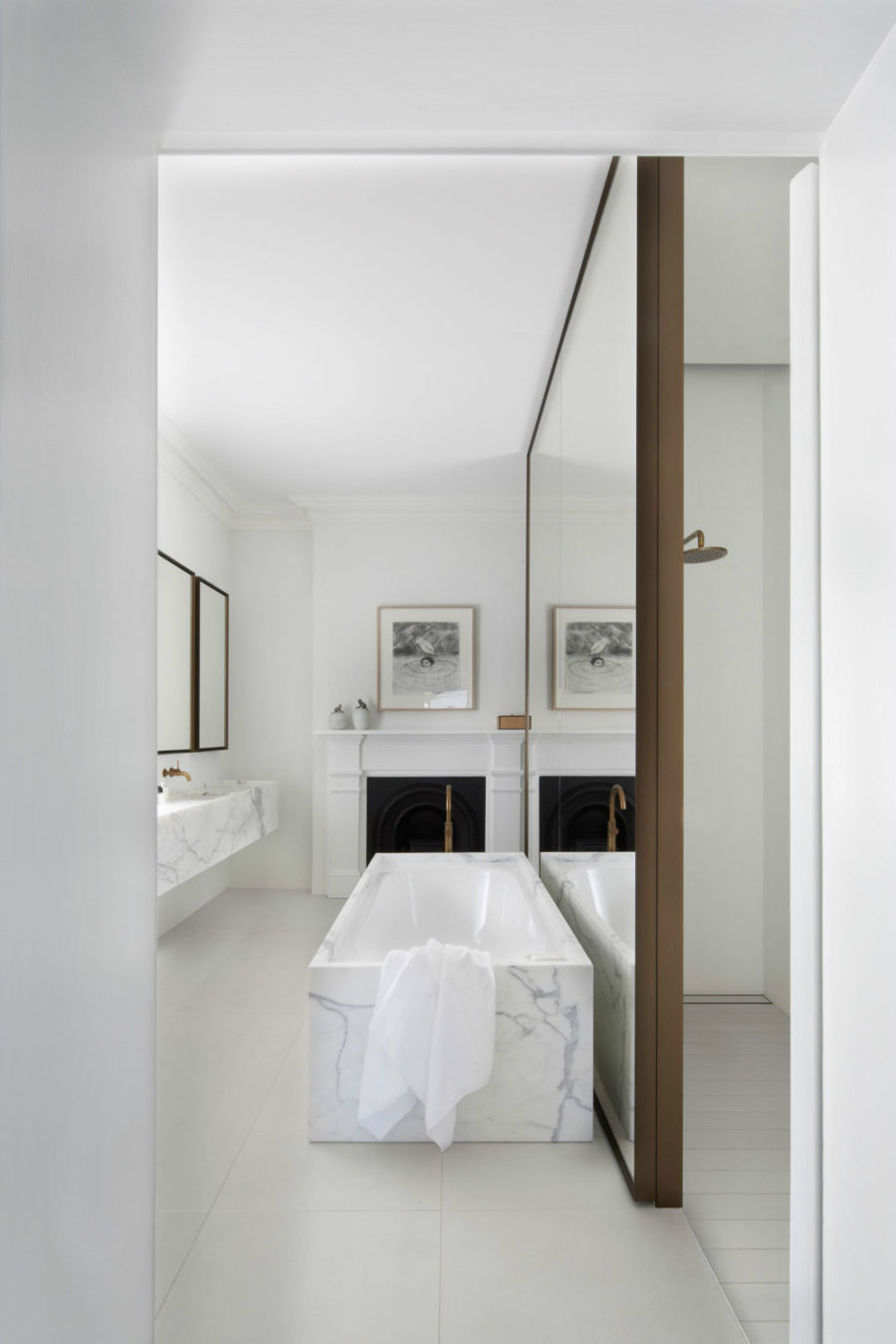 These aren't just for the hotels either. Take a cue from Smart Design Studio or SOJO Design, if you wish to pull this off.
It may be a pain to maintain, but there is just too much magnificence in a floor to ceiling mirror to pass up.
Implementing Big Bathroom Mirror Trend
It may not be easy to implement but the big bathroom mirror trend is well worth it. There are so many uses for this design element that are both aesthetic and practical. For instance, it can become your very own Hollywood dressing room, where you create your entire image from clothes to makeup.
Small bathrooms can really use some boost, and what's a better way to enhance space visually than a looking-glass?
The big bathroom mirror trend is a thing to try this year. It doesn't have to be too fancy, just be sure to do the proper installation to achieve the best look.